Viral infectious diseases
Marinomed develops virus-blocking therapies based on Carragelose for the treatment of viral infections that currently lack adequate treatment options.
Viral pneumonia
Viral pneumonia is an inflammation of the lung caused by a viral infection.
Short facts
| | |
| --- | --- |
| Product | Inhaleen/MAM-1001-1 |
| Indication | Viral pneumonia |
| API | Iota-carrageenan |
| Development phase | Phase 1 clinical trial |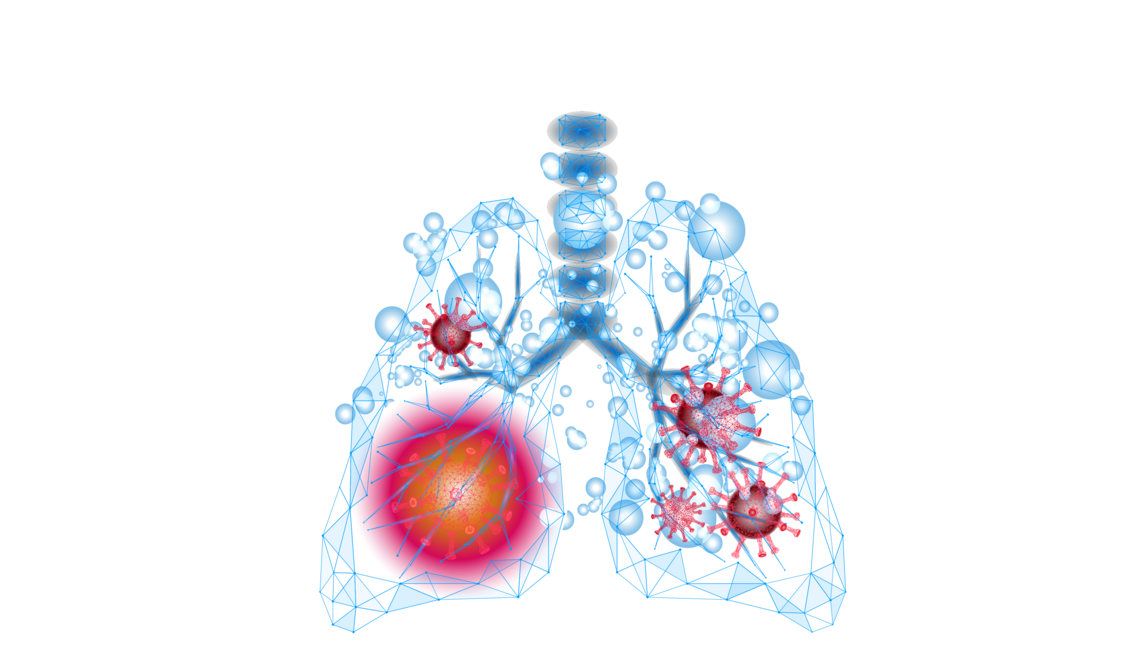 Description of disease incl. burden of disease
Lower respiratory tract infections belong to the top 5 leading causes of death and remained the world's most deadly communicable disease globally acc. to WHO. The highest burden is observed in the very young, the very old, and in patients with chronic medical conditions, irrespective of virus family.
Incidence / prevalence
Community-acquired pneumonia is a leading cause of hospitalization for adults and children in the U.S. with an overall annual incidence of 15.7/10,000 children resp. 24,8/10,000 adults. This resulted in healthcare expenses of more than 10 BN USD alone in the U.S. even before COVID-19.
Respiratory viruses substantially contribute to pneumonia in both adults and children, and when systematically tested for, are more commonly detected than bacteria in both adults and children. The most commonly detected respiratory viruses in adults and children are adenoviruses, coronaviruses, human metapneumovirus, human rhinoviruses, influenza viruses, parainfluenza viruses, and respiratory syncytial virus.
Current standard of therapy
Currently available antivirals against respiratory viruses are only licensed against influenza and SARS-CoV-2 which means that they have no coverage across different virus families causing respiratory illnesses. In addition, they might be susceptible to viral resistance, need intravenous administration, have a number of drug-drug interactions or might not be usable across all target groups incl. young children or pregnant women.
New antiviral candidate addressing unmet medical needs
The clinical development of our first iota-carrageenan-based antiviral drug candidate is already underway. Due to the recent SARS-CoV-2 outbreak and the demonstrated potential of iota-carrageenan against this virus and its variants of concern, an inhalable formulation against viral pneumonia is currently tested in hospitalized COVID-19 patients in several clinics in Austria. Throughout the last years, the scientific evidence on the antiviral properties of iota-carrageenan has been substantialized by Marinomed and other scientific groups.
Due to its unique mechanism of action, iota-carrageenan has the potential to neutralize a wide range of virus families.
This is a property that is nowadays requested for antiviral treatments in respiratory infections for being better prepared for future pandemics by groups like the U.S. National Institute of Allergy and Infectious Diseases (NIAID), the German Leopoldina or the recently formed Pandemic Antiviral Discovery (PAD) initiative supported by e.g., the Bill & Melinda Gates Foundation.